Childcare  
Are your kids not quite old enough to hit the Michigan ski slopes yet? No problem! Ski Brule offers childcare daily at the Kid's Center for children ages 1 and up. You can book morning, afternoon and full day sessions for your children while you enjoy the Michigan Ski Resort!  Childcare is available daily 9-4:00, advanced (min. 24 hours) reservations required (except Saturday). Call 800-362-7853 to reserve or for more information.
"Great Resort!  Prices are fair for the value and nice variety of activities for the kids." ~ Alex
Daycare Session  
Childcare at the Kid's Center is available daily for children ages 1 & up.  The childcare sessions are filled with  indoor and outdoor activities that will have your child planning your next Michigan ski vacation to Ski Brule before your trip has even ended!  Snacks are provided (juice and graham crackers) during a session and lunch is available 12-1:00 (hot dog, chips & juice).  Children are welcome to bring additional beverages and snacks.

Activities For Children  
It's encouraged to bring outdoor gear for children in daycare as the children often go onto Gentle Ben trail with the SKIWee participants to watch them ski, bounce in the moonbounce, build a snowman or catch snowflakes.
Three, six and seven hour childcare sessions are filled with fun for your little one.  Story time, face painting, arts & crafts, STEM activities, outdoor activities (dependent on children ages & weather)… children will have so much fun that they will ask to stay!
Private Lessons
For Children Under Age 4, Advanced Children Ski Lessons & Snowboard Lessons  
Have a little one that would like to learn to ski but not 4 years old?  Or is already a little ripper ready for the 'big slopes'?  Perhaps snowboarding is what they crave.  Enroll your child for a one hour private lesson.  Private lessons are available daily at 9:30, 10:45, 12:00, 1:15 & 2:30 and are $70 for one hour.   To book a private lesson upon arrival at Ski Brule, please stop in at Guest Services located on the lower level, slope side of the Brule Lodge.
 When To Start Your Child On Snow?
How do you know when your child is ready to start skiing?  There is no magic age to start.  If your child is balanced on their feet and wants to learn to ski … give it a try!  There have been children 10 months old ripping up the slopes at Ski Brule!  Also don't expect hours on the snow with younger children because it typically less time the younger they are.  Every minute on the snow with your child is amazing!
Private Lesson Rates
$70 One Hour
$198 Three Hour
Childcare & SKIWee Rates

Minimum age for childcare is 1 year & 4 years for SKIwee.
AM Session: 9-12:00
PM Session: 1-4:00
Lunch Session: 12-1:00
$55: One Session
$85: Two Sessions
$98: Two Sessions with Lunch
$25: Lunch Session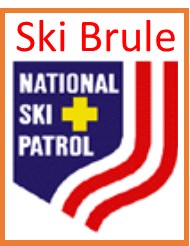 Ski Brule
397 Brule Mountain Road, Iron River, Michigan  49935
Email: [email protected]         Phone: 1-800-DO-BRULE (1-800-362-7853)      Phone: 906-265-4957
Rates posted on the Ski Brule website are the only accurate pricing source.
No other website prices will be honored.