Snow Conditions : January 21, 2020
Ski Brule is open on for skiing & snowboarding 9-4:00 on a 48-56″ base on 17 of 17 trails.  Lift tickets are $55 Adult, $48 Junior and FREE kids .
Cross country skiing, fat bike trails and snowshoe trails will be available as soon as possible.  
Lift Ticket Pricing & Specials:
Adult (age 18+) – $55
Juniors (age 10-17) –  $48
Kids (age 0-9) – FREE
Friends & Neighbors Members Save!  $5 Off Ticket Monday / Tuesday/Thursday / Friday and 1/2 Price Wednesday.
Weather:  
Temperature
High:  28
Low  18
Snow Totals:
Snowfall – Year To Date:  99″
Sn

owfall – Past 24 Hours- 4″ 

Snowbase:  48-56″"
Snow Conditions Trail Report:
17 of 17 
Maple Syrup:  Open

Homestead: Open

Bambi:  Open  

Gentle Ben: Open

Maple Syrup:  Open    
Sunrise:Open  

Otterslide: Open 

Log Jam:  Open 

Hot Cider: Open

North Forty: Open

Spillway: Open
Difficult


Whitewater: Open  


Big Bear:  Open  



Timberdoodle: Open  

Most Difficult


Double Doodle:


Rapids: Open


Snowshoe: Open

Beginner Terrain
More Difficult

Difficult
Most Difficult

Terrain Trail
Snow Conditions Lift Report:    5 of 11 Lifts Open   


Surface Lifts: 3 of 6


Bunny Rope Tow:

Open


Bambi Rope Tow: OPEN   
Gentle Ben Rope Tow:   OPEN  
Pony Handle Tow: 
Whitewater T-Bar:    
Spillway T-Bar:  
Chairlifts Lifts: 2 of  5  
Sunrise Chairlift:
Snowshoe Chairlift: OPEN 
Big Bear Chairlift: 
North Forty Chairlift: OPEN
Homestead Chairlift:

Additional Activities at Ski Brule:
Snowmobile Trails: 

Open



Fat Tire Bike Trails: Closed
Whitewater Snow Tubing Park:

5pm Mon., Wed,./Thur by reservation & Saturday / Sunday 1-3:00.

Homestead Snow Tubing Park:   5-8:00 Saturday

Nights 

Homestead Lodge: 

  Open Wednesday Through Sunday 9-4:00

Homestead BBQ Dinner* :

 

5-8:00 Saturdays 
Night Skiing & Snowboarding: 

 4:30-7:30 and every Friday/Saturday on lower Sunrise, Rapids, Bunny & Bambi Trails serviced by Pony Handle Tow and Bambi Rope Tow. 

Acrobag:

  closed
Hours Of Operation:
Lift Operation:

  9-4:00 & 4:30-7:30 Friday & Saturday for night session on lower Sunrise, Rapids, Bunny & Bambi.

Homestead Lodge: 

Open 9-4:00 Wednesday through Sunday (closed Monday/Tuesday) and 5-8:00 Saturday nights for Homestead BBQ Dinner.  

Bear's Den Pro Shop:

open daily 8-4:30 & 8:00 am – 7:00 pm Friday & Saturday.

Rental Center:  8-4:30 & 8-7:30 Friday & Saturday.

Lodging Office:

Open 8-6:00 daily & 8:00 am 10:00 Friday & Saturday

Lessons:

9:30, 10:45, 12:00, 1:15 & 2:30.  

Kid's Center:  9-4:00 daily.  Midweek by minimum 24 hour advanced reservation.

Brule Saloon: 

10-6:00 Midweek & later on weekends / holidays.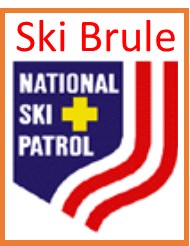 Located in Iron River, Michigan in the beautiful Upper Peninsula.
Online 2019/20 Ski Brule Travel Planner 
397 Brule Mountain Road, Iron River, Michigan 49935
1-800-362-7853  [email protected]
All rates posted on our website are the only accurate pricing source.
No other website prices will be honored.